5 TIPS FOR PREPARING TO TEACH YOUR FIRST CREATIVE WORKSHOP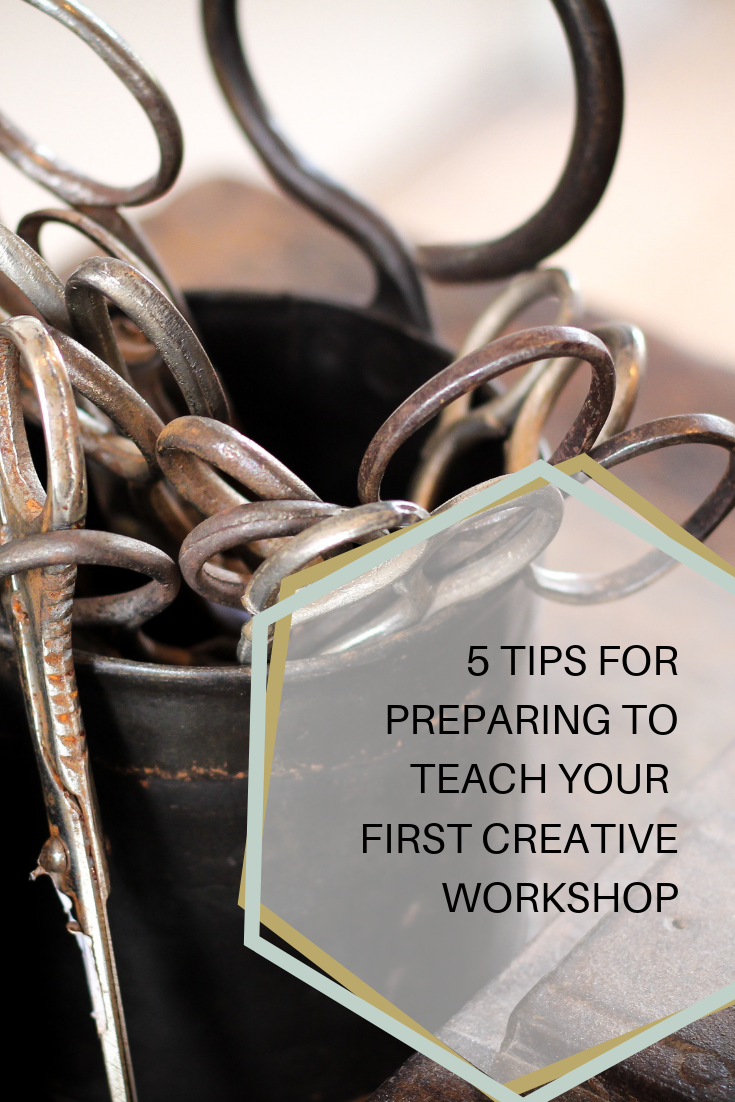 If you're thinking about leading creative workshops, You've probably got questions like, how many people should I have in each workshop? How do I actually teach? How do I get people to sign up?
So you're ready to start teaching a creative workshop, but if you've never run a workshop before, you're probably wondering where to even begin planning and teaching one?!
You've probably got questions like, how many people should I have in each workshop? How do I actually teach? How do I get people to sign up?
I remember having all these questions myself way back in the beginning, so I've put together my 5 top tips on how to prepare for leading your first creative workshop.
What to teach:
Workshops differ from art classes where people might be attending over a course of 8 weeks or more, you have a short time frame to teach within so it is vital that you teach an actual technique rather than encouraging your students to 'be creative' or 'explore their creative side'.
People attend workshops to learn a particular skill and walk away with 'something' to show for their efforts. If you can provide them with a takeaway (reference guide/instruction sheet) to allow them to use these new skills on their own, even better!
Outlining and Planning:
It can be easy to over-complicate the process of outlining your workshop, but essentially you just need to deconstruct the process, reverse engineer from the end result and list all the steps your students need to take/learn to achieve that.
Build in time for demonstration and then time for the students to implement while you facilitate.
You will need to plan out how you will deliver your content, your set up, what resources you need, handouts you require, schedule in break times. It is also a good idea to have a run through with some friends if you can, to iron out any issues and get a clear idea of timing, as often what we plan on paper takes longer in real life!
Pricing:
My biggest tip is, never undercharge. Even if you are a newbie. At the very minimum you want to cover your costs (I have a pricing formula I use inside The Confident Creative Workshop Host Planner). Do your research and be competitive with what else is around in your area but always factor in your time and charge your worth.
Keep the numbers small:
If you are brand new to leading workshops I would recommend keeping your group sizes to around 6 and growing to around 10-12 when you feel more comfortable. I would never recommend having more than 15 in a class as you just will not be able to give everyone the attention they need and have paid for.
Promote your workshop:
Promote yourself and your workshop relentlessly. Too often I see artists and makers mention it once or twice on their Facebook page or in an Instagram post and then they never mention it again. You have to actively SELL your workshop. Daily. Especially if you are relying on social media to promote as only around 7% of your audience will see your post. I am also a fan of old school flyers in coffee shops and libraries etc. Do you have an email list? Why not ask your community to forward your workshop info onto one friend each. I suggest putting some real thought into how you will promote your workshop and out together an action plan for it.
Have you got a workshop idea in mind? I'd love to hear all about it, let's chat in the comments!
If you're an artist or maker ready to start leading creative workshops don't miss out on my free 10 step guide, it's a complete road map of everything you need to do and when you need to do it so you can start planning your creative workshop today.