6 LESSONS LEARNED FROM LEADING CREATIVE WORKSHOPS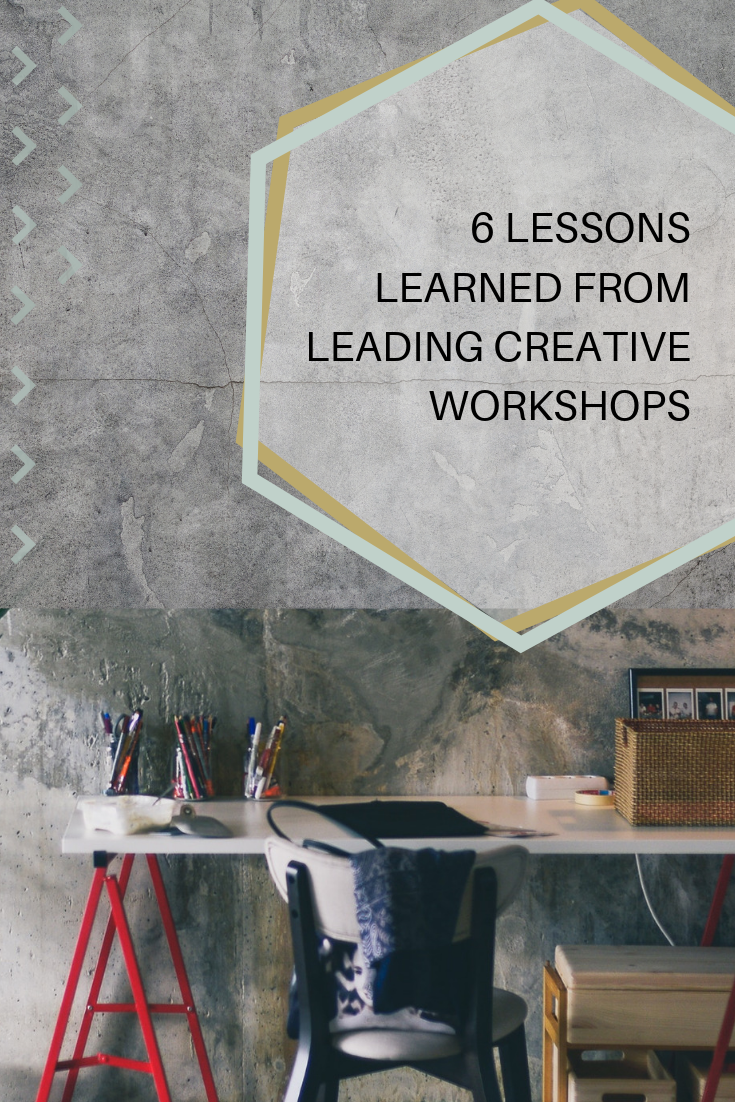 I've made all the mistakes & experienced all the nerves, here are 6 lessons I have learned from leading creative workshops
I have been leading creative workshops online and 'in real life' for a little over ten years now, I have made all the mistakes and experienced all the nerves, but no matter what goes wrong it's always such an amazing experience, being able to share my knowledge with others in such an intimate and creative setting is truly an honor, every time.
As you may know I am super passionate about the sharing of knowledge and creative skills, as well as the wellness benefits of creativity and I have made it my mission to impact the world with creativity, one workshop at time. But I can't do it all by myself, so I am working to inspire and empower creative women around the globe to step up and share their passions through leading creative workshops.
For those just thinking about leading creative workshops it can seem daunting (I promise it's not anywhere as near as scary as it might seem!) so thought I would share the 6 main lessons I have learned along the way.
Exposure isn't a given
Exposure isn't a given: Yes leading creative workshop can bring exposure to your creative business, but it's not just going to happen automagically. There is a misconception that workshops are free advertising and marketing, but is anything ever really free? What they actually are is an excellent form of organic marketing and organic exposure. If you provide an amazing experience to your participants the ripple effect can be huge and long lasting. BUT… you have to do the work to create that experience, even before the workshop begins. YOU HAVE TO CREATE THE HYPE BEFORE THE BIG DAY and then the RESULTS OF THE BIG DAY WILL CONTINUE TO CREATE HYPE FOR YOU. Make sense? Do what you can to get people excited to attend, to get people talking about your workshop before they have even been,under-promise and then over-deliver and get ready for the exposure that will organically come your way.
Expect some no shows
Expect some no shows: There will always be some people that don't show up and I urge you to not take this personally. As long as you have done everything you can before hand to help prevent this, such as, preparing your participants with directions, FAQs answers, reminders, parking info etc.
Have a back up plan
Have a back up plan: Always try and plan for things to go wrong as best you can! Particularly when it comes to electrical equipment, there were many times back in the day when I had planned to use an over head projector (how ancient does that sound!?) provided by the venue only to find it not working when I arrived. Test your own equipment the day before and bring your own extension cords! Print out paper copies of any slideshows you might be using.
Have a run through
Have a run through: It's so important to have a full run through of your workshop before the big day and if possible get some friends to take part, there are always parts that take longer than we expect and others that go faster, its highly beneficial to see how people will work through your steps (in case you need to make any changes), to see how long your workshop actually takes (you never want to over run and have people leave without completing what they came to do), it's also really useful in helping you figure out how you want to set the scene and lay everything out.
Just be yourself
Just be yourself: The first few minutes of your workshop can be terrifying until you settle into your groove, but don't let those impostor syndrome thoughts take over, you are expert enough, you do deserve to be there. Be you and enjoy yourself, your passion and your personality can't shine through if you are trying to be an 'expert'. Often times the people you are teaching are a little nervous too, if they can see you as a 'normal human being', as someone they can relate to, it will put them at ease.

I'd love to hear from you and any lessons you have learnt from leading creative workshops, let's chat in the comments!
If you are an artist or maker ready to start leading workshops in your local community but are unsure where to start, then you need to Creative Workshop Roadmap, a free 10 step guide so you can get started today!