LEAD YOUR FIRST CREATIVE WORKSHOP LIKE A PRO USING MY C.R.A.A.F.T FORMULA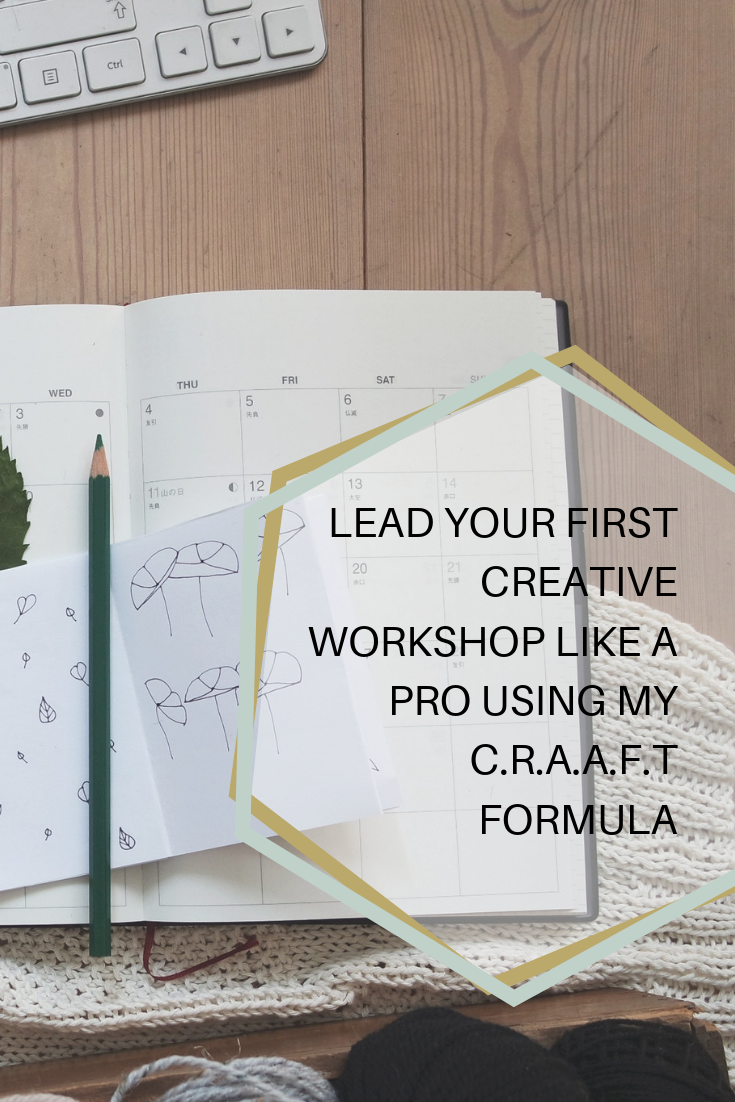 Amazing at your craft and want to teach it to others? But have no idea how to even begin planning out workshops and classes?
Unfortunately, just because you are really good at your craft it doesn't mean you will necessarily be really good at teaching it to others, but just like you honed your skills to learn your craft you can totally do the same with learning to lead creative workshops.
In this blog post I am sharing my CRAAFT Formula for leading creative workshops. In the 10+ years that I have been leading workshops and mentoring others with leading theirs I have realised that there are always 6 key areas that need to be developed and planned for.

These 6 areas fall into 3 phases that are the building blocks of your successful workshops, these are: foundation phase, planning and action phase, evaluation and improvement phase.
So lets dive in,

CRAAFT framework:
Confidence
Refine topic
Audience
Action plan
Feedback
Testimonials
CR - Foundation phase
AA - Planning and action phase
FT - Evaluation and improvement phase
foundation phase
Confidence - It is very common to experience fears and insecurities around your ability to lead creative workshops and often people get held up with analysis paralysis, imposter syndrome, comparisonitis. I believe it's super important to get a grip on these barriers before moving on to the planning stages or they will continue to trip you up. Doing the inner work, the mindset work to overcome any limiting beliefs you might have that will affect your confidence will be a huge game changer for you and your workshops success.
Refine topic - Chances are you already know what you want to teach, but the important part here is to refine that topic, it needs to be really clear to your potential participants what they will be learning. Too often I see 'art and craft workshop' or ' learn to sew' or 'watercolour for beginners' - these are too vague and will stop people from signing up. The must successful workshops are the ones that have what I like to call 'another layer of meaning', whats the added benefit people will get from coming to your workshop? Will they be getting a wellness benefit? Will they be saving the world by using recycled materials? I teach my students how to come up with an impactful topic that utilizes their skills, passions and their uniqueness. Ask yourself is this topic, purpose driven and person centred. To help you verbalise and generate an 'outcome/objective' for your workshop complete this sentence: By the end of the workshop the students will be able to…

planning and action phase
Audience - Leading on from your workshop topic, you need to be super clear about who your workshop is for. Lots of novice workshop hosts just want to teach everything to everyone, but that is just not possible. Your audience will dictate a lot of what and how you will teach it, also how long it will take and even where you might teach it. Are you teaching kids, adults, a community group, nature lovers, introverts…?

Action Plan - The next step is to create a plan of action, set your target workshop date and work backwards penciling everything you need to do, when you need to do it by and how, then start implementing! I always advise that you create an action plan otherwise it can all seem overwhelming and you will inevitably forget something, follow your plan and stress less!

evaluation and improvement phase
Feedback - After the big day its time to collect feedback. Often people are afraid of collecting feedback but it can be a really useful tool for development and improvement of your workshops. I have even been inspired to create new workshops based on people's feedback. I have never received any piece of feedback that has been nasty, it is always constructive. The key is to act on the feedback you receive for your next workshop and you will just keep on improving and improving.
Testimonials - testimonials are an invaluable marketing tool, so may people make decisions based on recommendations and reviews. Testimonials also help to build your credibility and position you as an expert in your niche. But here is the thing, people are all too happy to provide testimonials but they are not going to offer them up unprompted! So make sure you have a process in place to ask for them, it could be as simple as a quick email with a few questions or even a book you ask people to write in at the end of your workshop.
So there you have it, my complete framework for continued, successful, creative workshops.
If you're an artist or maker looking to run workshops in your community then make sure you grab my free 10 step guide to get started today: