OUTLINE YOUR CREATIVE WORKSHOP IN 4 EASY STEPS WITH MY T.A.S.K METHOD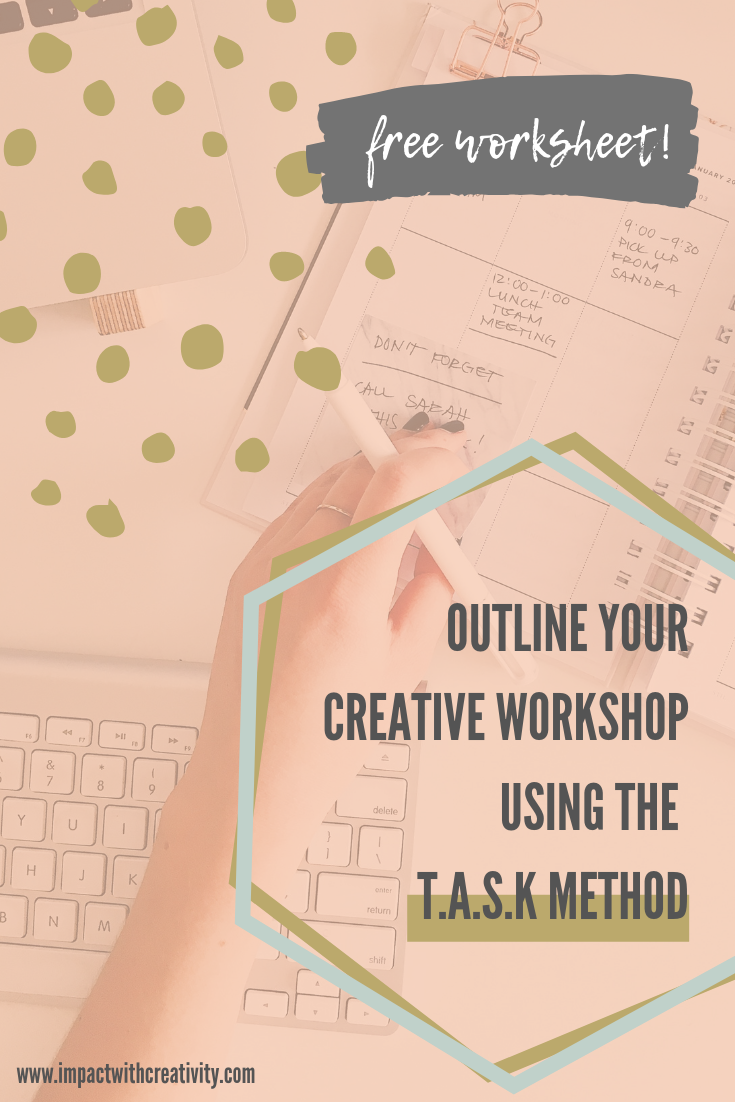 Outlining your creative workshop should be fun, not complicated!
Ever sit down to finally outline your creative workshop idea only to end up staring at blank page for hours, feeling frustrated because you just don't know where to start? Then this blog post is for you, I am going to walk you through my 4 step process to outline an ah-may-zing and of course impactful & profitable workshop.
Plus I've created a free worksheet for you too, to make it as easy and fun as possible.

Lets dive in...
A workshop outline is a big picture view of what you are going to teach, it is not about the nitty gritty details of how you're going to teach it. Too many people get bogged down by the details at this stage and end up feeling totally overwhelmed.
Outlining your workshop should not be complicated. It should be a fun process where you can throw ideas around, play and figure out the best way to make it impactful for your students.
A strong workshop outline will provide you with a framework to flesh out into a more detailed session plan. Jumping straight to a session plan means that the important aspects that will make your workshop impactful and profitable will get overlooked -so resist the temptation to do so and start by writing a really strong outline.
In this blog post I am going to walk you through my 4 step process to building an epic workshop outline using my T.A.S.K Method.
TOPIC
It all begins with the topic. If you're not clear on the topic of your workshop it will be impossible to outline. Spend time honing in on what you bring to the party to make your workshop exciting, impactful and memorable.
Things to consider here are, who your workshop is for, is it kids, teens, adults, beginners, dog lovers, self care seekers…..get specific clarity on this. Next ask yourself, is there a clear outcome? Is it a topic you are passionate about? Is it something people actually want to learn and there is a benefit to them?
ACTION:
Topic checklist:
Specific target audience

Clear outcome

Passion-driven, purpose-focused &

person-centered
AIM AND OBJECTIVE
Next you want to make sure that you understand exactly why people will attend your workshop, what is the purpose of it? What will they learn/achieve/make? What will they take home?
Lots of creatives struggle to articulate this in their messaging/marketing and people are unsure what they will learn during the workshop, which leads to low sign ups. Your aim and objective needs to be simple and clear for anyone to understand.
ACTION:
Complete the sentence:
By the end of the workshop the students will be able to . . .
STEPPING STONES
The stepping stones are the bones of your workshop, the key points you want to cover.
What steps do your students need to take to ensure they reach the 'aim' (that you decided on above) of the workshop?
The key here is to think like a beginner and break down every step of the process into bite sized chunks. I like to brain dump everything you can think of and then list them in a logical, sequential order.
ACTION:
Grab some post it notes and write down your topic stepping stones, just get all the pieces out of your head and then play around with the ordering of the post it notes to move them into a logical sequence
KISS
Keep It Super Simple
Remember an outline is a brief overview! Don't get stuck thinking about the HOW just yet (how your students will learn these steps). Focus only on WHAT they need to know and learn, and in what order.
ACTION:
Download my TASK Method free guide to get started outlining your creative workshop today!