VISION STATEMENT: WHAT IS ONE? WHY DO YOU NEED ONE? HOW CAN ONE IMPACT YOUR INCOME?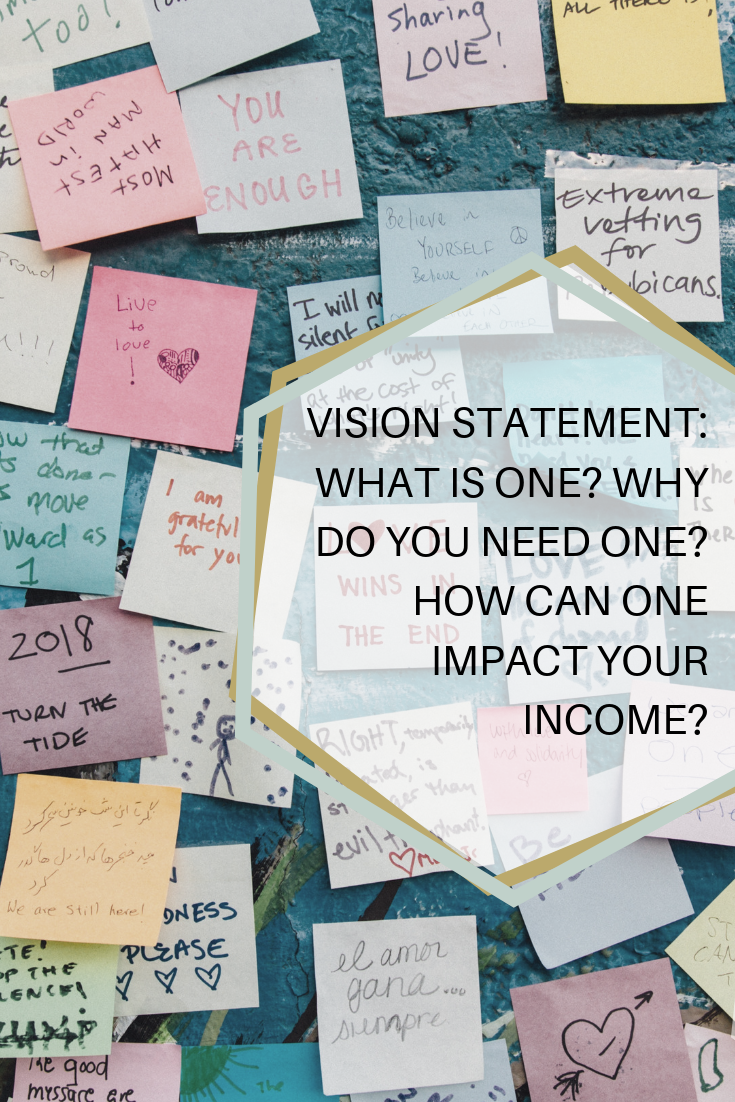 Vision statements aren't just for big companies, they are super valuable for small business and people wanting to better versions of themselves
If you want to make an impact on the world or simply achieve personal success you need vision, a clear vision of what the world will be like once you have made your mark.
Vision statements aren't just for big companies, they are super valuable for small business and people wanting to better versions of themselves.
If you do not have a vision statement for your business I highly recommend writing one, and if you are thinking about leading creative workshops to support your handmade/creative business then you definitely need one, it is this vision statement that leads to creating really impactful and profitable workshops.
Vision statements are a way of regularly reminding yourself that the world can be changed with your imagination, your skills and your efforts.
What is a vision statement?
I think to think of a vision statement as a guidepost, a reference point for the decision I am going to make on a daily basis. A vision statement is the long term effect of your short term goals (your short term goals are often drawn from your mission statement).
For example my mission is to empower and teach creative women to share their craft and the transformative power of creativity in their community, by leading impactful workshops; for us all to heal the world with creativity, one workshop at a time.
Because my vision is to live in a world where art heals, where art and creativity is acknowledged, accepted, valued and celebrated as a tool for wellness in all communities.
This vision is not only a mini strategy for getting the results I want, a story of the impact I want to make, but it is also a strong guide for my decision making, if a choice doesn't align or take me closer to this vision then I believe I shouldn't waste my time with it.
How to create a vision statement:
Start with the future
Ask yourself these big questions. What is the world struggling with? What impact am I able to make? What do I want to achieve in the future? What changes would I like to see? What will the world look like when I have achieved my goals?
Make it relevant
Keep your vision statement in alignment with your creative business and your life experience. It HAS to be a vision that fires you up and makes your heart beat fast when you read it!
have purpose
Leading on from the previous point, you will need a strong sense of purpose to attached to your vision to keep you motivated and on track to achieving the goals that will realise your vision. Ask yourself, why do you want to create a vision statement?
Your core values
If you haven't done any work on your core values I highly recommend you do, it can be so insightful and can inform so many areas of your life. Knowing what you truly value will encourage you to put more of that into the world.
Inner fulfillment
What will you gain from striving to make the world a better place? The result and the journey towards this big vision needs to be fulfilling for you too.
Keep it simple
Your vision statement needs to be concise and written in simple language, but also really specific, you want anyone to be able to read your vision and to be able to understand it completely.
I really hope these tips will help you start writing your vision statement and support you in your big goals to start impacting the world with your creative business. Sometimes entrepreneurship can feel overwhelming but having a vision statement can help you feel like you can take on the world!
I would love for you to share your vision statement in the comments below!
If you're an artist or maker ready to start making impact with creative workshops then be sure to grab my free 10 step guide to start planning yours today